Angry Birds "New!" is a game that features more updates.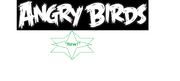 Angry Birds "New!"

Official 2019 logo

Publishers:

Rovio Entertainment Ltd.

Developers:

Rovio Entertainment Ltd., Fox Digital Entertainment, Blue Sky Studios

Released:

September 12, 2017(Indonesia) August 26, 2017(United States) June 29, 2018(International)

Price:

$30.99

Platforms:

iOS, Mac, PC, Android, Windows, Xbox, PlayStation 2, Wii U

Genre:

Fantasy, Sci-Fi, Comedy, Action, Adventure

No. of episodes:

30

No. of hidden Golden Cloves:

19

Franchise:

Angry Birds

Birds from:

AB Classic, Rio, Stella, Rebooted
Story
When dimensions of new places opens, the birds can defeat pigs right away!
 New Update
Get the Windows 10 episode soon in 2021!
Ad blocker interference detected!
Wikia is a free-to-use site that makes money from advertising. We have a modified experience for viewers using ad blockers

Wikia is not accessible if you've made further modifications. Remove the custom ad blocker rule(s) and the page will load as expected.