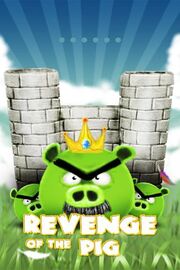 Angry Birds: Revenge of the Pigs is an app that was released on August 20, 2012. In this game, you can play as both the birds and pigs. During the Pigs' gameplay, you must build structures for them to protect them from the birds because (as usual) the pigs stole the birds' Eggs. You can also build catapults that launch different types of ammunition such as rocks and bombs in order to protect the pigs. The birds' gameplay is similar to as it has always been. The Mighty Toucan and invisa pig make their official debut in the game, however, you must purchase the game in order to use The Mighty Toucan. It is also a game for Android.
Ad blocker interference detected!
Wikia is a free-to-use site that makes money from advertising. We have a modified experience for viewers using ad blockers

Wikia is not accessible if you've made further modifications. Remove the custom ad blocker rule(s) and the page will load as expected.