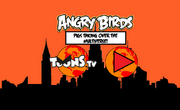 Angry Birds: Pigs Taking Over the Multiverse! is a game.
Plot
The pigs are trying to take over the multiverse and save their money for 1000000000 cages which costs over $128,490,928,999. Now all birds, fanon and canon, must stop the pigs before the pigs have taken over the multiverse!
Birds
Red Bird
Blue Bird
Yellow Bird
Black Bird
White Bird
Boomerang Bird
Big Brother Bird
Orange Bird
Pink Bird
Brown Bird
Ice Bird
Neutron star bird
Green Deadly Boomerang Bird]]
Blu
Jewel
Mighty Eagle
Mighty Dragon
Space Eagle
Octo Bird
Duck
​Pigs
Small Pig
Medium Pig
Large Pig
Helmet Pig
Moustache Pig
King Pig
Episodes
The Moon Festival in Summer?
I Like Bacon
Wait.....
Bacon?! Danger For Pigs
Prevent the Pig Empire!
Golden Eggs
Theme song
Ad blocker interference detected!
Wikia is a free-to-use site that makes money from advertising. We have a modified experience for viewers using ad blockers

Wikia is not accessible if you've made further modifications. Remove the custom ad blocker rule(s) and the page will load as expected.