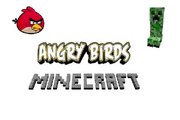 Not to be confused with the Minecraft Angry Birds Mod.
Story
The day starts with the Black bird bringing the birds a computer,but a virus vaccums them into the computer.When they wake up they are stuck in minecraft.Then they found the pigs riding a saddled pig with the eggs.
Birds
Red Bird-Caws
Blue Bird-Multiplies
Yellow Bird-Speeds Up
White Bird-Drops Egg
Black Bird-Blows up
Big Brother Bird-Stronger Red Bird
Boomerang Bird-Can go backwards like a boomerang
Orange Bird-Can Inflate
Mighty Enderdragon(Purchase required)Destroys all the blocks in a line,Kills any pig
(BONUS)Creeper Bird-Black Bird Costume
Steve Bird-Sticks to a block and breaks it in some time
Pigs
Gold Helmet Pig
Square Pig
Creepig
Zombig(Zombie pig)
Pigiton(Skeleton Pig)
Episodes
1-Plains Biome(2 Worlds)
2-Steve's House
3-Cave Swifts(2 Worlds)
4-The Nether
5-Nether Fortress Attack
6-The End
E-Diamond Eggs
B-As Strong as a Stronghold.
Ad blocker interference detected!
Wikia is a free-to-use site that makes money from advertising. We have a modified experience for viewers using ad blockers

Wikia is not accessible if you've made further modifications. Remove the custom ad blocker rule(s) and the page will load as expected.