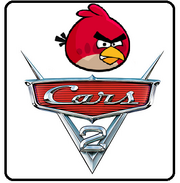 The birds are coming home from Rio! But their plane broke and landed in a strange place called Radiator Springs. The pigs and the birds' eggs were there too! The birds must stop the pigs and get home in this all new game!
Birds
Cars
Episodes
Oil Rig Escape
Radiator Springs
Party Time
Race #1
Tokyo Airport
"French" Fries
Italian Riveara
Race #2
Big Bently
Final Race
Radiator Springs Grand Prix
Golden Tires
Available on
Versions
Free
Free HD
Lite
Lite HD
HD
Full version
Original
Platforms
Apple iOS
Android
Amazon Kindle Fire
Windows 7
Windows XP
Windows Vista
Ad blocker interference detected!
Wikia is a free-to-use site that makes money from advertising. We have a modified experience for viewers using ad blockers

Wikia is not accessible if you've made further modifications. Remove the custom ad blocker rule(s) and the page will load as expected.