Angry Birds Brothers Is A Game Where All Of The Birds' Brothers Are Introduced. It Was Released On July 18, 2015.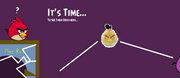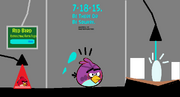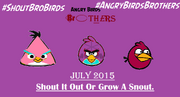 This page is under construction. Please do not delete this article or mark it as a stub.
Birds
Red
The Blues
Chuck
Bomb
Matilda
Hal
Terence
Bubbles
Stella
Their Brothers
Plot
To Be Written...
Cutscenes
Powers
Episodes
Ad blocker interference detected!
Wikia is a free-to-use site that makes money from advertising. We have a modified experience for viewers using ad blockers

Wikia is not accessible if you've made further modifications. Remove the custom ad blocker rule(s) and the page will load as expected.