Angry birds: 2 Birds captured is a new game of Angry Birds. The King Pig captured Blue Bird (like the original description of
Angry Birds: 50
) and boomerang bird.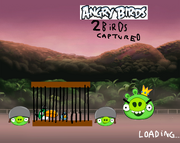 Birds
Red Bird - Screams
Yellow Bird - Speeds up when tapped
Black Bird - Explodes when tapped
White Bird - Drops an egg bomb - when tapped
Big Brother Bird - Moans
Orange Bird - Inflates when tapped
Lavender Bird - Inflates and explodes when tapped
Purple Bird - Eats any pig when tapped
Racketball Bird - Bounces 3 times when tapped
Pink Bird - Turns into a ball of plasma
Goggle Birds - Have more than 1 ability
Dancing Bird - Summons Backup Birds
Mud Bird - Shoots mud
Midnight Bird - Kills all pigs faster
Suite Bird - Drops a pink egg bomb
Gemini Bird - Clones into a 100s and 1000s of birds
You can add birds but only registred users.
Pigs
Small Pig
Medium Pig
Large Pig
Helmet Pig
Moustache Pig
King Pig
Episodes
1.Captured birds
2.Go to the hills?
3.This way!
4.The Big setup
5.Kill king and tornado pig
6.King's revenge
7.Rescue birds
Bonus:
Golden Eggs
Golden Balls
Ad blocker interference detected!
Wikia is a free-to-use site that makes money from advertising. We have a modified experience for viewers using ad blockers

Wikia is not accessible if you've made further modifications. Remove the custom ad blocker rule(s) and the page will load as expected.