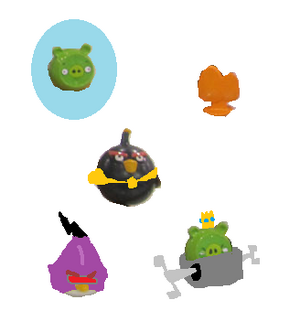 Angry Birds: Birds In Space is a fanon board game by Redbird07.
Pieces
1 Super Red Bird (Red Bird)
1 Firebomb Bird (Bomb Bird)
1 Ice Bird
1 Lazer Bird (Yellow Bird)
6 Original Pigs (Frozen and Ok)
4 Helmet Pigs (Frozen and Ok)
4 Mustache Pigs (Frozen and Ok)
2 Space King Pigs (Frozen and Ok)
2 Fat Pigs (Frozen and Free)
1 Pig Bang
1 Cold Cuts
1 Fry Me To The Moon
1 Coming Soon FMTTM (For fun)
1 Coming Soon Utopia (For fun)
1 Utopia
7 Bubbles
3 Large Bubbles
1 Fat Pig-Sized Bubble
1 Space Ship
1 UFO Tank
Transparant Squares
Bird Launcher
Level Cards
1 Eggsteroids Planet
6 Eggsteroids
Wood
Glass
Stone
Gameplay
The same as Knock on Wood, On Thin Ice and Spring is in the Air, you have to use your Launcher to attack the Pigs. Take a Level Card and build the level using the Wood, Glass and Stone Blocks. There are 5 difficulties of the Levels. 1 set says 1 (PB) for Pig Bang. 2 (CC) for Cold Cuts, 3 (FMTTM) for Fry Me To The Moon and 4 (U) for Utopia. An extra one, saying E is for Eggsteroids. In your levels, you can earn 8 Eggsteroid Levels. 2 Eggsteroids are hidden in Pig Bang levels, 3 in Cold Cuts, 1 in Fry Me To The Moon. And 2 in Utopia. Also, Danger Zone is not included with this set. After completing Pig Bang and Cold Cuts and Fry Me To The Moon, you can battle Fat Pig in Utopia! That is why a seperate unfrozen version of Fat Pig is available.
Angry Birds: Birds In Space - The Danger Zone
The Danger Zone is an extra set that comes with Danger Zone, Mines (things with things sticking out) and some more Birds!
Pieces
3 Lightning Birds (Blue Birds)
1 Monster Bird (Terence)
1 Danger Zone
10 Light Mines (Battery needed)
10 Original Mines
3 Batteries
Angry Birds: Birds In Space - Updates
Updates are also an Extra Set. It contains items that you don't have.
Update 1 Pieces
1 Cake Planet
1 Facebook Planet
1 Twitter Planet
1 Weibo Planet
1 Renren Planet
1 Atom Bird (Orange Bird)
1 Explosion
3 TNT Boxes
1 Ice Explosion
1 "5000" Text
"10,000" Text (Different Colours)
2 Mine In Bubbles (3 Stars and Original)
2 Plant In Bubbles (3 Stars and Original)
2 Ice Rock In Bubbles (3 Stars and Original)
2 Egg In Bubbles (3 Stars and Original)
1 Chocolate Apple Planet
1 Cookie Planet
Update 2 Pieces
Space Egg
Space Egg Explosion
2 Eggsteroids
Galaxy Note Eggsteroid (Only included if you have a Galaxy Note with you when buying)
Update 3 Pieces
1 Red Planet
1 Astronaut Pig
5 Big, Long Lava Pieces
1 Galaxy Note Eggsteroid Code - This will not come in every box of Update 3 Pieces. But if you get one of these you can use the code to get the Eggsteroid with Update 4.
Trivia
It is the first set to have King Pig's Crown.
It is the first set to have an extra set.
It is also first to have ALL birds from an Angry Birds game.
Galleries
Boxes
Coming Soon
Ad blocker interference detected!
Wikia is a free-to-use site that makes money from advertising. We have a modified experience for viewers using ad blockers

Wikia is not accessible if you've made further modifications. Remove the custom ad blocker rule(s) and the page will load as expected.