All editing rights is reserved to Blackplus CEO, BlackBombBird; if you have an idea in this game, tell him in his message wall.
Angry Birds: A Sweetnom Story is a game released by Rovio, Zeptolab and Blackplus Games. It is a crossover between Angry Birds and Cut the Rope. It released in 2017.6.5.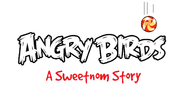 Plot
comin' soon...
Gameplay
In fact, the gameplay is a mixture of Angry Birds and Cut the Rope. It has the flinging style of Angry Birds, and in each episode you have a certain element or bird inspired by Cut the Rope series.
Birds and Nommies
Red Bird
Blue Bird
Yellow Bird
Black Bird
White Bird
Big Brother Bird
Boomerang Bird
Orange Bird
Pink Bird
Bee Bird
Suction Bird
Om Nom
Half Nom
Roto
Lick
Blue
Toss
Boo
Snailbow
Pigs
Small Pig
Medium Pig
Large Pig
Corporal Pig
Moustache Pig
Scarecrow Pig
King Pig
Episodes
A. Feed Me (resembles Cut the Rope)
B. Sweet Science (resembles Cut the Rope: Experiments)
C. Time Travel (resembles Cut the Rope: Time Travel)
D. The World of Nommies (resembles Cut the Rope 2)
Ad blocker interference detected!
Wikia is a free-to-use site that makes money from advertising. We have a modified experience for viewers using ad blockers

Wikia is not accessible if you've made further modifications. Remove the custom ad blocker rule(s) and the page will load as expected.