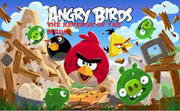 Angry Birds:The Revenge Of The Birds is the latest game.This game is an RPG Role Playing Game
Gameplay
The gameplay of Angry Birds:The Revenge Of The Birds is just looks like the gameplays of other RPG games like the Final Fantasy Series
Characters
Protgonist General Red Bird (Red Bird) former warrior of General Risson Bird (Traitor Bird) commanded by Emperor Bird to get the eggs back
Blue Bird is the smallest of all the Wingless family birds one of the comrades of Red Bird

Yellow Bird

is one of the comrades of Red Bird too.The fastest attacking member of the party.
Black Bird is the second strongest bird in the party.He used his superpower to destroy the Pig Kingdom Castle.
White Bird is the Atomic Egg Beater of the Bird Empire.She is the bird used to destroy the Pig Capitol.
Green Bird is the bird that has the longest beak causing him to go back when he attacks like a boomerang.
Orange Bird is the second smallest bird but his superpower attack the Big Bang he is the largest among all the birds.
Reddy Bird (Female Red Bird) the wife of General Red Bird.
Prince Bird the son of Emperor Bird and bestfriend of General Red Bird.
Emperor Bird is the ruler and emperor of the Bird Empire.He lives at the Bird Empire Palace with his Queen and son.
Pigs
King Pig the ruler of the Pig Kingdom.he lives at the Pig Kingdom Castle.
Story
Ad blocker interference detected!
Wikia is a free-to-use site that makes money from advertising. We have a modified experience for viewers using ad blockers

Wikia is not accessible if you've made further modifications. Remove the custom ad blocker rule(s) and the page will load as expected.