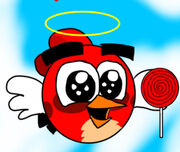 Angel Red Bird
Angel Red İs 2rd Red Shy Dosent Angry
Gallery 
Japanese
Was İn Games
Angry Birds:Mitchiri Neko
Angry Birds 3
Angry Birds Seasons 2
Flying
Slow 0.9
Series
Enemies
Uoillac
Power Up
Screaming Breaks İce Wood Stone Gold Caramel Radioactive Pig İron
Angry Birds Fight Anime Series:Yoohoo Mode!
Message From Mighty Eagle Founding Fosiles Rules Said No Angel red bird!. Angel red bird cried by silver loop leaving him yoohoo cared him. he was happy with yoohoo. Yoohoo Don't Leaved angel red bird
Ad blocker interference detected!
Wikia is a free-to-use site that makes money from advertising. We have a modified experience for viewers using ad blockers

Wikia is not accessible if you've made further modifications. Remove the custom ad blocker rule(s) and the page will load as expected.